EXPERT SODA, ICE SHOT, & SAND BLASTING MANCHESTER, NORTH WEST AND UK
Established in 2010, our expertise in soda blasting, ice blasting, dust free blasting and shot blasting is extensive. We work on major projects such as graffiti removal for TFGM Metrolink and also on smaller jobs such as vehicle paint stripping. We service the entire mainland UK with our extensive network of professional blast cleaning experts. If you have a blast cleaning requirement do not hesitate to call us for a quote.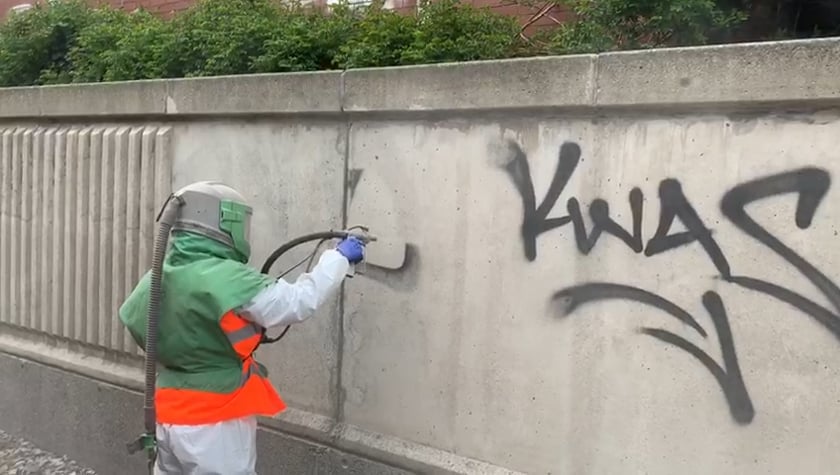 We are the official contractor for TFGM Metrolink, working alongside them to ensure that their network is free of graffiti, gum and other unwanted pollutants. Our teams of blast cleaners are available throughout mainland United Kingdom. For a hassle free quote please get in touch and find out how we can help you.
We use Baking Soda that is manufactured specifically for media blasting by Arm and Hammer. All other media remove coatings by friction, which causes heat to be generated. Baking Soda particles explode upon contact with the surface creating energy. The release of this explosive energy blasts off the coating without generating enough heat to cause even extremely thin metals to warp.
Soda Blasting is a process that can strip almost any surface in an efficient and safe manner. Although similar to traditional sand blasting, Baking Soda Blasting has the significant advantage of cleaning the surface without causing harm to the substrate or the environment.
Dry Ice Blasting is a blasting service we offer in addition to our other blast cleaning methods using Soda and Glass bead.. We can offer Dry Ice Blasting as an alternative to Soda Blasting for projects where dust and post blast clean-up are issues.
Dust free blasting / vacuum blasting resolves the biggest issues with blast cleaning, the mess. Powershift has always invested in the best blasting equipment we can find and has now acquired a machine which can allow us to provide Dust Free Blasting.
The glass we use is not post consumer waste recycled. Ours is new glass and the by product of the glass industry, this ensures we have no contaminants such as metal from bottle tops and provides a consistent blast.
We're here to help in any way we can.
Powershift Blast Cleaning have a variety of techniques to safely and carefully remove paint from wood, brick, masonry and metals. Sometimes we combine several processes to get the result the client wants. Powershift Blast Cleaning is fully certified to use DCM-based paint strippers onsite having completed the 2 stage training and testing process. DCM is dichloromethane, also known as methylene chloride. It is an effective stone and masonry façade paint stripper that can be used safely with most substrates. DCM was banned from inclusion in paint strippers at the end of 2010 by European legislation. It was not supposed to be used by DIYers or the trade onsite after June 2012. However, companies were told they could get an exemption to the onsite trade ban if testing of competency was in place. The Health & Safety Executive offer a competency test for use of DCM. Without the certificate, it is still illegal to use DCM paint strippers and DCM is still banned from DIY products.
Some before and after shots of our recent work.
"Powershift were great all the way through when we asked them to strip the paint off our store building. Highly recommended." – Zack Hughes, Zutti Co.

"Quick, professional, really good job, thanks" – Mick, Spinners Arms
We're here and ready to help. Give us a call today.
POWERSHIFT BLAST CLEANING LTD
So what are you waiting for?
Get in touch today!
Call us on 07796 36 32 35